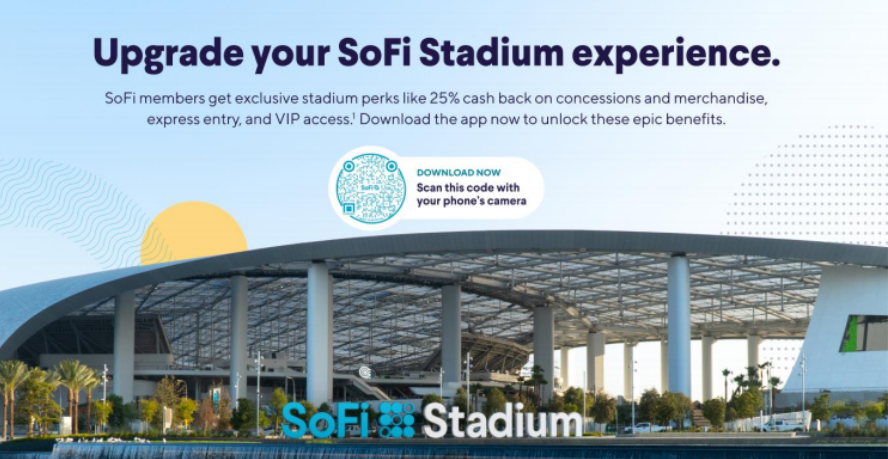 Timeframe: July 17, 2021 12:01 AM - March 31, 2022 11:59 PM

Offer: New and existing SoFi Credit Card members can earn 25% cashback on all eligible purchases at SoFi Stadium. https://www.sofi.com/stadium/

Qualifying Purchases
Purchases that qualify for the promo:
-Food, drinks, stadium/team merchandise purchased INSIDE the stadium
Purchases that do not qualify for the promo:
-Game, event/concert tickets
-Food trucks outside of the stadium
-Traveling merchant vendor (ex: a vendor selling concert tickets for a specific show)
Eligibility and Details:
All new and existing SoFi Credit Card members can earn 25% cashback on all eligible purchases at SoFi Stadium through 3/31/2022 11:59 PM PT.
All purchases on food, beverage, or merchandise on your SoFi Credit Card while you are inside the stadium qualify to earn 25% cash back.
'Bag Check' will not be available until the first NFL preseason game, 8/14/21
The team store will be open to the public Monday-Friday but will be closed during the Kaskade concert on 7/17/21.
Terms & Conditions:
No opt-in is required.
A maximum of 12,500 rewards points, corresponding to a maximum spend of $500, can be earned from this limited-time offer.
After the promotional period or once you have earned the maximum points offered by this promotion, your cash back earning rate will revert back to 2%.
12,500 rewards points are worth $125 when redeemed into SoFi Money®, SoFi Invest, Crypto, SoFi Personal or Student Loan Refinance loans and are worth $62.50 when redeemed as a SoFi Credit Card statement credit.
Game tickets, event tickets, purchases made outside of SoFi Stadium, and purchases at traveling merchants not affiliated with SoFi Stadium such as food trucks or traveling merchandise vendors are not eligible for this promotion.
SoFi reserves the right to exclude any Members from participating in the Program for any reason, including suspected fraud, misuse, or if suspicious activities are observed.
SoFi also reserves the right to stop or make changes to the Program at any time.
The SoFi Credit Card is issued by The Bank of Missouri pursuant to license by Mastercard® International Incorporated and can be used everywhere Mastercard is accepted. Mastercard is a registered trademark, and the circles design is a trademark of Mastercard International Incorporated.