Due to their generally volatile nature, market orders are not available when buying or selling stocks that trade "over the counter" (OTC) and/or have a price of less than $1 per share.
Instead, limit orders must be used when transacting in such stocks to ensure buy orders are not executed far above, nor sell orders executed far below, your intended price.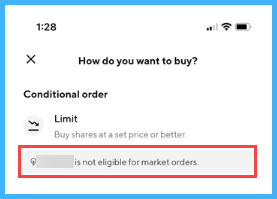 Related Articles:
What type of trades can I place during the extended-hours trading session?
Why isn't my trade going through?