Eligible Pay in 4 members can get started with their single-use Pay in 4 virtual card by following these steps:
1. Log in to your SoFi Banking tab.
2. Select Get Started on the Pay in 4 banner on the Banking home page.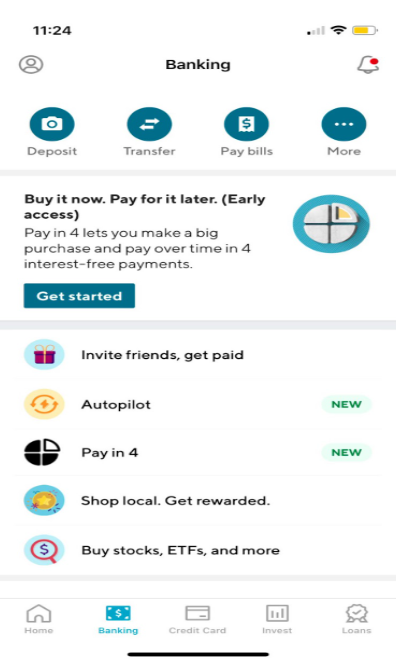 3. Next, review your approved virtual card amount and payment plan details.
a. Virtual cards can be approved for amounts ranging from $50 - $500.
b. The first payment will automatically be debited from your SoFi Checking account at the time of purchase.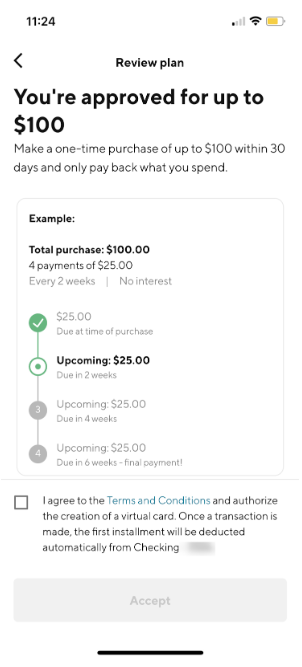 4. Once you agree to the terms and conditions, the next screen will give you the options for how you would like payments to be made for your Pay in 4 loan.
a. If you choose Autopay for your Pay in 4 loan, your SoFi Checking account will automatically be debited every two weeks when a payment is due.
b. You can also choose to make manual payments from your SoFi Checking account.
c. Don't worry -- we'll send you a reminder email five days before your payment is due so you can keep track.
5. Your Pay in 4 virtual card is ready to go! You can choose to provision your virtual card to your Apple or Google digital wallet.
Note: Only eligible members will receive the Pay in 4 offer. The amount approved for use on the virtual card ($50 - $500) cannot be changed or increased.